Whilst out shopping today, I popped into Tiger and found the cutest new accessory for my Makie Annie. They have miniature shopping trolleys! It's meant to be a desk accessory for you to put pens in, but is perfectly sized for Makie shopping trips. It's made of metal, with plastic wheels (that really turn!) and a plastic seat and handle. The seat folds up, just like on a real trolley! I think it's really well made and it's just so cute - perfect for Makies

. I bought one with black plastic bits, but they also had one with orange plastic. They also had shopping baskets, but these were much bigger than the trolleys, so cute for storage but not in scale for Makies.
So, if you have a Tiger near you, it's worth going for a look! It was only £4, which I thought was pretty reasonable for a quality item. I tested it out with Annie standing behind it and she looks just right. Plus, the eraser 'food' I have for her (all found in Blott, the home of wonderful shaped erasers) can sit in it and look great. I'm sure it will make a fun prop for photos, and it could also be useful for storing bits and pieces in.
I'll try and add some photos when I can. Let me know if you find one, and share photos too! 
In case anyone is wondering, this was Tiger in Basingstoke. They're a bit odd in that not everything they sell is stocked in every shop, and they don't sell online, so it's a case of trial and error in terms of finding things, but fingers crossed you may find them. Let me know how you get on!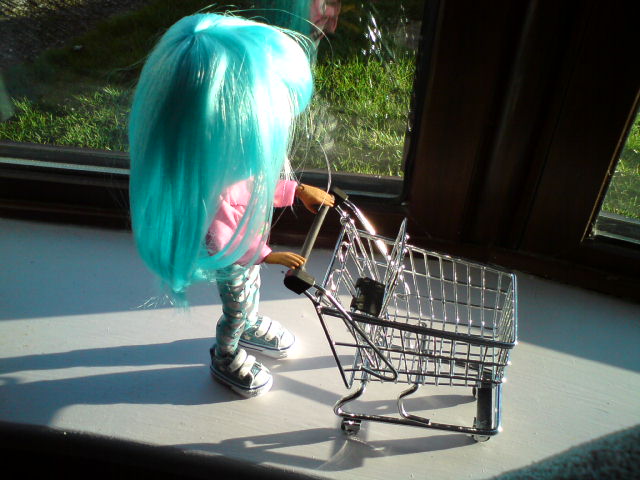 Photos, for anyone curious to see. The bottom two show how the seat can be folded up. I just think it's so cute

.
Aw! That is so cute! Just wondering, is Tiger in the uk 'cause If so I can't buy one.

 Oh well, back to the miniature isles...
Member





Posts

: 332


Join date

: 2015-02-07



I have never heard of 'Tiger' before.  What a fantastic and perfect sized shopping trolley!
_________________
Without Challenge There is No Achievement
Moderator





Posts

: 325


Join date

: 2015-02-04



Omg I must have one. I think there's one in the town nearby. Time for a wee shopping trip methinks hahaha.
_________________
Hey, just your friendly neighbourhood admin.

Check out my Makies

In space, nobody can hear you explode.

Admin





Posts

: 1035


Join date

: 2015-02-04


Age

: 32


Location

: London



Yes, Tiger is a shop in the UK. I don't know if they have shops elsewhere, it might be worth checking their website? It's a weird shop, they sell so many different things and lots of things they only sell for a month or so then change stock. Odd indeed. But every now and then, you find a gem like this!
I hope you find one Purple_Monkfish!

Great find! We have a Tiger in town so I'll have to pop in.
We use Shopkins and their baskets for our shopping trips

Member





Posts

: 12


Join date

: 2015-02-15


Location

: South Wales, UK



Let me know how you get on!
Oh yes, I have a couple of Shopkins baskets too. I love cute, appropriately sized accessories!

Omg, I have seen little trolleys like that in Kmart over here. They were like $7 and I almost got one but didn't.
Sigh
oh well I guess I will just have to check next time I'm in Kmart to see if they are still on sale. 

_________________
Me and my sweet Makie Nala say 'Hello' and we wish you a great and happy day! 

Member





Posts

: 55


Join date

: 2015-02-20





Similar topics
---
Permissions in this forum:
You
cannot
reply to topics in this forum